Ed DeSimone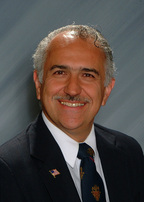 I have been a member of St. Wenceslaus parish in Omaha since 1990. My wife, Sandy, and I have been married since 1971. We are parents of a son, Ed, and 2 daughters, Lauren and Michelle, and grandparents to 2 boys, Aaron and Jacob, and a girl, London.

Sandy and I hold certificates in Leadership in Family Ministry from Creighton University and the Archdiocese of Omaha Family Life Office. I have served in many parish activities over the years. Sandy and I served on the Family Life Committee at St. Wenceslaus for many years. I have been actively involved in pro-life activities for more than 30 years. I belong to National Right to Life, the American Life League, Pharmacists for Life, and Nebraskans United for Life. I am also the faculty advisor for Creighton Students for Life. I have attended Cursillo, Christ Renews His Parish, That Man is You (TMIY), and the Great Adventure Bible Timeline (Jeff Cavins).

I was born in NYC and attended St. Francis Xavier High School, a Jesuit school in Manhattan. I have a B.S., M.S. and Ph.D. from Temple University in pharmacy. I taught at Butler University for 12 years and have been at Creighton University in the School of Pharmacy and Health Professions since 1989. I do a lot of traveling and speaking specializing in addiction and chemical dependency as well as the prevention of medication errors.

For fun (I call it my sanity maintenance program), I have been a soccer referee since 1984 and play basketball four days a week (talk about addiction!). In the summers, I garden. I also spend a lot of time with my grandchildren.

---
Greg Barrios
I married my beautiful bride, Shari, in 1989 and we have been blessed with 7 surviving children, Russell, Sierra, Joseph, Elizabeth, Clare, Grace, and Mary. My son, Russell, and I were at the very first retreat together in 2004 and had such a great experience that we have both been involved with the retreat ever since. My son Joseph attended last year and will again this year and we both look forward to the weekend.

Our family belongs to Church of the Holy Spirit in Plattsmouth where Joseph is a member of the Columbian Squires and is an altar server. I am involved with the Knights of Columbus, music ministry, and serve as an Acolyte.

I attended Creighton Prep (class of 1986), received a B.S. from the University of Nebraska-Lincoln and am currently employed with the City of Omaha.

This retreat is a special time for fathers and sons and I am confident that you and your son will realize the value in spending this spiritually filled weekend together.

---
Dan Connelly
I've been on the Fathers and Sons retreat team since 2004 attending with my sons as well as giving talks. I'm married to Angie and we have four sons and one daughter and a Golden Retriever named Yeller.

We live in Our Lady of Lourdes Parish in Omaha. I grew up close to St. Cecilia's Cathedral and graduated from there. I majored in math and graduated from Wayne State with a certification to teach 7th through 12th grades. I began teaching at Daniel J. Gross Catholic High School in 1996 and am currently teaching theology as well as coaching football and baseball.

Previously, I taught at Central High School for two years and then attended the seminary at St. Mary of the Lake in Mundelein, IL. After 3 years, I left and returned to Omaha to teach and coach at Roncalli Catholic High School for six years before going to Gross High. I enjoy baseball, bicycling, camping, reading, and spending time with my family.

Pope John Paul II and John of the Cross are two men who have greatly inspired me.

---
Deacon Dave Krueger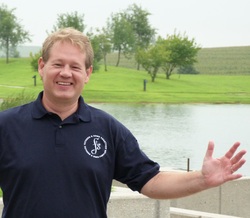 I went to High School in Blair, Nebraska, then to Concordia College in Moorhead, MN. There I met VanNessa and we were married after college. We have three children. Our daughter Xandy turned 19 and it's amazing how well she did in her first year of college considering she hasn't quite conquered the lawn mower or vacuum cleaner. Abi is 16, knows everything and is kind enough to share her knowledge with her parents. Trey is 13½ but still remembers back in the day when he was only 13.

My degree is in International Relations with a minor in Film & Video. I was the managing partner of a growth company and adjusted to working for a Fortune 250 company, which was very different but rewarding. When I was ordained a deacon in 2004, I never expected to work for a parish, but that changed in 2007. I am the Director of Stewardship & Faith-Raising at St. Columbkille Parish in Papillion, Nebraska. Really, my job is to make every ministry in the parish better.

Since 2006, I have been leading retreats for parishes outside of the Omaha Archdiocese. The retreats are typically for the parish leaders as they look to grow in their faith. I'm also an Advisor for the Faith Division of Gallup, Inc. When the apostles went fishing, they didn't use poles, but nets. In that vein, I look for ways to "fish with a net." Doing things with our kids takes up most of our time, but VanNessa and I get in a bit of wine drinking and traveling as well.

---
Fr. Francis Nigli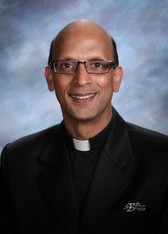 Fr. Francis has a B.A in Psychology from St. Xavier's Jesuit College at the University of Mumbai in India. He earned his M. Div. in Theology and M.A. in Scripture at the Pontifical College Josephinum. He was ordained in 1997 and currently serves as Associate Pastor at St. Wenceslaus Church in Omaha.


---
For more information, please contact Ed DeSimone. Feel free to call him at 402-280-2979 (daytime) or 402-333-4351 (evenings) or at fathersandsons@cox.net.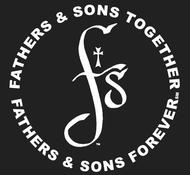 To register:

call the St. Benedict Center at: 402-352-8819.



---