Ed DeSimone

I have been a member of St. Wenceslaus parish in Omaha since 1990. My wife, Sandy, and I were married in 1971. We are parents of a son, Ed, and 2 daughters, Lauren and Michelle, and grandparents to 2 boys, Aaron and Jacob, and a girl, London.

Sandy and I hold certificates in Leadership in Family Ministry from Creighton and the Archdiocese of Omaha Family Life Office. I have served in many parish activities over the years. Sandy and I served on the Family Life Committee at St. Wenceslaus for many years. I have been actively involved in pro-life activities for more than 30 years. I belong to Pharmacists for Life, Nebraskans United for Life, and support many pro-life organizations. I am also the faculty advisor for Creighton Students for Life.

I have attended Cursillo, Christ Renews His Parish, That Many is You (TMIY), and attend a weekly men's bible study at St. Wenceslaus. I am also a member of the Knights of Columbus.

I was born in NYC and attended St. Francis Xavier High School in Manhattan. I have a B.S., M.S., and Ph.D. in Pharmacy from Temple University. I taught at Butler University for 12 years and have been at Creighton University in the School of Pharmacy and Health Professions since 1989. I do a lot of traveling and speaking specializing in addiction and substance related disorders as well as the prevention of medication errors.

For fun (I call it my sanity maintenance program), I referee soccer (since 1984), play basketball four days a week, and, in the summers, I garden.

---
Deacon Dave Krueger

I went to High School in Blair, Nebraska, then to Concordia College in Moorhead, MN. There I met VanNessa and we were married after college. We have three children. Our daughter Xandy turned 19 and it's amazing how well she did in her first year of college considering she hasn't quite conquered the lawn mower or vacuum cleaner. Abi is 16, knows everything, and is kind enough to share her knowledge with her parents. Trey is 13½ but still remembers back in the day when he was only 13.

My degree is in International Relations with a minor in Film & Video. I was the managing partner of a growth company and adjusted to working for a Fortune 250 company, which was very different but rewarding. When I was ordained a deacon in 2004, I never expected to work for a parish, but that changed in 2007. I am the Director of Stewardship & Faith-Raising at St. Columbkille Parish in Papillion, Nebraska. Really, my job is to make every ministry in the parish better.

Since 2006, I have ben leading retreats for parishes outside of the Omaha Archdiocese. The retreats are typically for the parish leaders as they look to grow in their faith. I'm also an Advisor for the Faith Division of Gallup, Inc. When the apostles went fishing, they didn't use poles, but nets. In that vein, I look for ways to "fish with a net." Doing things with our kids takes up most of our time, but VanNessa and I get in a bit of wine drinking and traveling as well.

---
Stan Lierz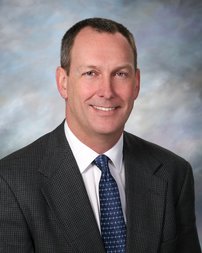 I was born and raised on a farm west of Holton in Northeast Kansas and received my B.S. in Agriculture Economics from Kansas State University in 1985. My entire career has been dedicated to agriculture and I currently work for Hertz Farm Management where I am a Professional Farm Manager and Real Estate Agent. I love working with the land.

Deb and I were married in 1997 and we have three fantastic children; Samantha born in 1999 and our twins, Adam and Allie, born in 2002. All three went to elementary school at St. Wenceslaus in Omaha and then Skutt Catholic High School. Adam and I have attended the Father/Son retreat for four years, where the Fathers have won the dodge ball contest all four years!

Our family have been members of St. Wenceslaus in Omaha and/or St. Charles Borromeo near Gretna, having served as Usher, Greeter, EMHC and Altar Servers. Along with being a 3rd degree member of the Knights of Columbus since 2003, I have also held the position of Chief Counselor for the Columbian Squires, a boys youth service group. I have also been involved with the Cub Scouts, the Great Adventure Bible Study, That Man Is You (TMIY), youth soccer and football coach, and miscellaneous other Catholic study groups. In my spare time, I enjoy spending time with my family and attending a variety of activities from sports to concerts to hunting to yard work.
---
Fr. Francis Nigli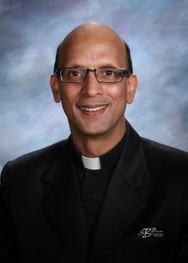 Fr. Francis has a B.A. in Psychology from St. Xavier's Jesuit College at the University of Mumbai in India. He earned his M. Div. in Theology and M.A. in Scripture at the Pontifical College Josephinum. He was ordained in 1997 and currently serves as Associate Pastor at St. Wenceslaus Church in Omaha.

---
---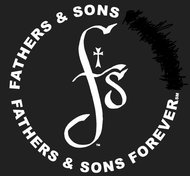 For more information, please contact Ed DeSimone. Feel free to call him at 402-280-2979 (daytime) or 402-333-4351 (evenings) or at fathersandsons@cox.net.

To register, call the St. Benedict Center at 402-352-8819.

---